Dec
5
2023
Neurodivergent Drop-In Space
Neurodivergent Drop-In Spaces
December 5, 2023
2:00 PM - 2:50 PM
Location
Virtual via Zoom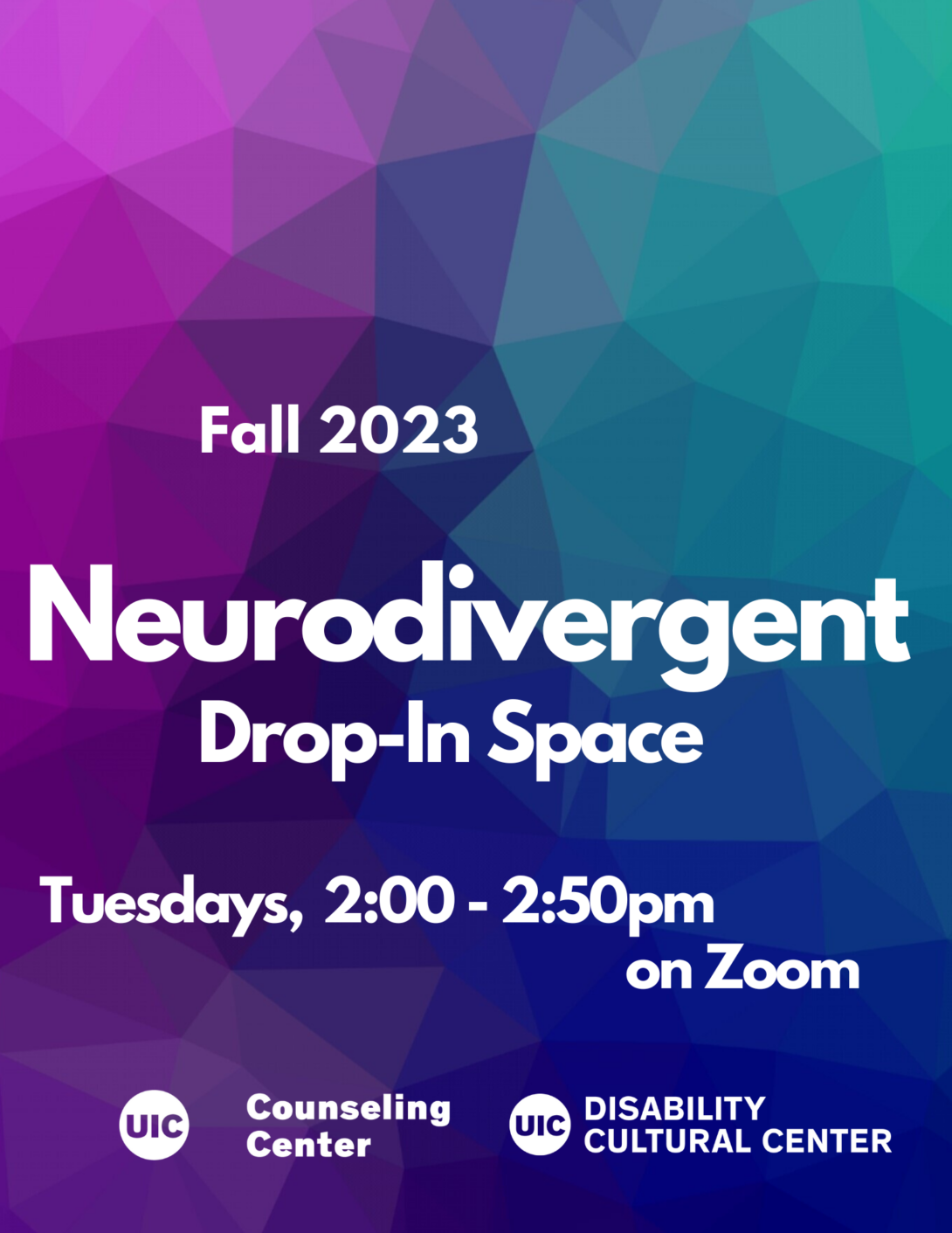 Welcome to your Neurodivergent Drop-In Space, UIC! This space is a partnership between the UIC Counseling Center and the UIC Disability Cultural Center (dcc.uic.edu), a Center for Cultural Understanding and Social Change. This space will continue Fall 2023, and is hosted by Dr. Margaret Fink of the DCC.
Eligibility: The Neurodivergent Drop-In Space is a weekly space open to all students who identify as neurodivergent. This includes students who are autistic or who have ADHD, sensory processing conditions, Tourette's, a learning disability (dyslexia, dyscalculia, dyspraxia, dysgraphia, etc.)--people with mental health conditions can also identify as neurodivergent. You do not need to have a formal diagnosis to participate in this space, and students who are questioning whether they may be neurodivergent are invited to participate as well. You do not need to have a specific concern related to being a neurodivergent student to use this space. Though you are not committed to attending every week and may "drop in" on whatever week(s) work for you, we do require registration so that we can ensure that these safe spaces are attended by UIC students only.
More Information: This space adheres to a strengths-based, neurodiversity-affirming model and provides a welcoming environment for neurodivergent students. Students are encouraged to come as they are, and you can take off the mask, stim, infodump, use AAC, and engage in special interests to your heart's content (or learn what these terms mean!). We also discuss topics like self-advocacy in the classroom and healthcare settings, building relationships, testing and accommodations, and challenges of navigating a world designed for neurotypical people.
We will have auto-captions enabled in these meetings. If there is anything we can do to make this space more accessible, or if you have specific questions, please contact Margaret at mfink3@uic.edu.
Date updated
Nov 30, 2023