United Support Network
A Supportive Community of Students Helping Students!
Kickback Friday Event Photos
United Peer Support Network
The United Support Network is a community of students coming together to support each other through life's challenges and connect around life experiences! 
Weekly Support Groups
Confidential* and inclusive peer groups, led by trained students, where members can gain support around life's struggles, form deep connections, and not feel alone in the world as they pursue their goals
Kickback Friday Events
Fun, social, stress-busting events open to both group members and the UIC student body with the goal of building a more connected campus community.
Sign up for a group today!
Fall 2020 group signups are now available! Groups will be conducted online and are open to undergraduate and graduate students at the following times:
Mondays from 3-4pm
Mondays from 5-6pm (grad students only)
Tuesdays from 6-7pm
Wednesdays from 12-1pm (grad students only)
Thursdays from 5-6pm
Fridays from 10-11am and 3-4pm
Please sign-up using the link below, and we hope everyone is staying safe during this time!
Kickback Friday Events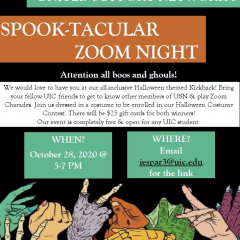 Attention all boos and ghouls! We would love to have you at our all-inclusive Halloween-themed Kickback on Wednesday, October 28th from 5-7pm! Bring your fellow UIC friends to get to know other members of USN and play Zoom charades. Join us dressed in a costume to be enrolled in our Halloween costume contest – there will be $25 gift cards for both winners! Our event is completely free and open to all UIC students.

Please email iespar3@uic.edu if you plan to attend!
Learn More
Learn more

WHAT
We offer peer-facilitated support groups (~4-12 students per group) that are cost-free and confidential for all University of Illinois at Chicago students. We also offer monthly, free, social and stress-busting events focused on building connections with other UIC students and supporting our overall wellness as students.

WHO
The Weekly Groups are led by students, who have been trained with holistic health and well-being resources to create safe, supportive spaces and facilitate inclusive dialogue around the stresses of everyday life.

WHEN / WHERE
Weekly Groups are held on campus in 1-hour time slots. Join us this semester, by signing up above! Group is scheduled for the semester at your convenience, so be sure to indicate times where you are most available! Members are expected to attend each week's group throughout the semester, which usually last 1 hour.

Separate groups are held for graduate students and undergraduate students. Undergraduate student groups are led by trained undergraduate peers while graduate student groups are led by graduate student peers. Graduate and undergraduate students are welcome to all Kickback Friday events!

THE SUPPORT NETWORK

Our programming is based off a model by The Support Network. For more information about The Support Network and to learn about peer support networks on other campuses, click here: www.thesupportnetwork.org
FAQ
FAQ

Is USN only for students?

Yes! USN is created as a resource for students. All students are currently to sign-up for support groups and attend any Kickback Friday events.

What about graduate students?

We are now offering support groups for graduate students, beginning February 2020! Graduate students are also welcome at Kickback Friday events.

Who leads USN's weekly groups?​

Weekly Groups are led by UIC students. After an application and interview process, students complete PSCH 386 to master basic counseling skills and gain sensitivity training around various mental health struggles as well as various holistic health and well-being strategies. Group leaders also attend weekly consultation meetings where they receive additional ongoing training.

How do I sign-up?

You can sign up for groups anytime by clicking the link above! You are also welcome to attend our kickback Friday events.

How many students are usually in a specific Weekly Group?

Weekly groups usually consist of 4-12 students.

What happens during group?

Group is a place for members to talk about day-to-day stressors, gain support and strategies from each other, destigmatize mental health, and not have to feel alone! Group leaders will help guide the group around how to utilize the space and make sure it feels safe and inclusive for everyone.

When and where do Weekly Groups meet?

Groups are offered at various times and locations on campus to try to reach as many students as possible. Students can select a time and place that works best with their schedule of various times offered.

Is USN therapy?

USN is not therapy, and members do not enter into a professional relationship with peer leaders. It is a simply a safe, inclusive, and confidential environment for students to engage honestly with one another and support each other through life's challenges. If you are seeking professional therapy, please contact the Counseling Center at 312-996-3490 to learn about options available.

Are groups confidential?

Yes. Once members join a group, leaders will not share any information that members share in the group with outside parties. We ask that members also agree to not disclose information shared in group with outside parties. Leaders may at times consult about their groups during ongoing trainings to ensure they provide members with a positive experience, but no names or identifying information will be shared to protect member privacy. A few rare exceptions to confidentiality do exist and will be discussed with members when groups begin.

Is weekly group only for students with mental health concerns?

No, weekly group is designed for all students, as we hope to address and promote mental health and well-being for all UIC students.
Confidentiality
*A few rare exceptions to confidentiality do exist and will be discussed with members when groups begin