Group Therapy
Group Therapy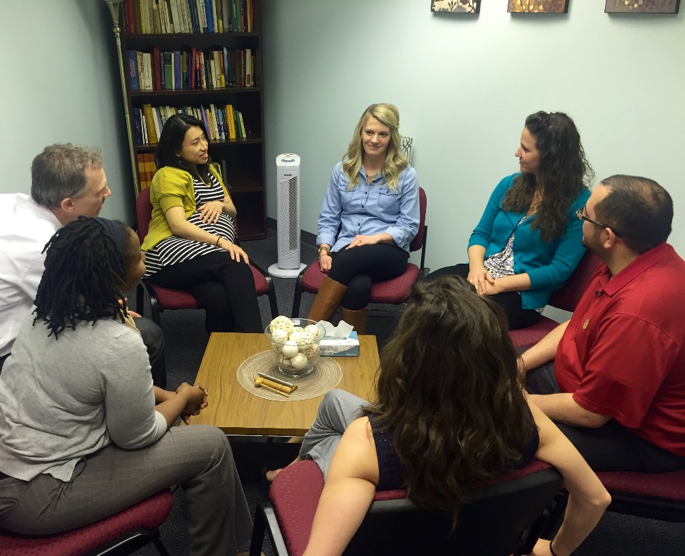 Group therapy is the treatment of choice for many concerns, especially for individuals whose distress is related to their social, family, or romantic relationships.
Group therapy (also known as an interpersonal process group), is offered to students who may benefit from exploring personal and interpersonal growth and/or interpersonal underpinnings of psychological symptoms in a safe, supportive environment with others who may have similar experiences.
Groups generally meet once a week, have 5-8 members and 1-2 trained group therapists, and do not have a session limit; however, a few groups are specifically designed to be time-limited (often for a specific semester).
Text blocks
Potential Benefits of Group Therapy
Provides an opportunity to explore personal concerns with others, who may have similar experiences, in a trusting, confidential environment.
Provides an opportunity to learn more about your interpersonal communication style and its potential impact on your relationships with others.
Provides an opportunity to practice more effective communication with other people.
Learn to better recognize and share your emotional experiences in the present.moment by practicing being emotionally available to and vulnerable with others.
Practice giving and receiving interpersonal feedback in order to identify and work on how you both present yourself to and impact other people.
How Do I Participate in Group Therapy?
Before joining a group, you are first required to attend an initial consultation at the Counseling Center. If your initial consultation counselor recommends group therapy, the next step is to meet with the co-facilitators of an available group for what is called a "pre-group meeting." During the pre-group meeting, the co-facilitators will help you determine whether that particular group is a good fit for your clinical and interpersonal needs. A meeting with the co-facilitators of a group, typically 30 minutes in length, can be scheduled after first completing an initial consultation or via referral from your UIC Counseling Center individual therapist or group therapy clinician. If you are interested in group therapy, please contact the UIC Counseling Center to schedule an initial consultation at 312-996-3490, or speak with your assigned counselor about your interest in group therapy.